The Orioles have vastly revamped their bullpen in each of the past couple years.
Koji Uehara
Jamie Walker
Danys Baez
George Sherrill
Matt Albers
Dennis Sarfate
Michael Gonzalez
-Looking back at that list now, you could argue that it was fairly horrific. Besides George Sherrill, there were no standouts, although most of them were indeed serviceable. But did they pitch towards their value? I would argue no, and that they were on the wrong type of team for the contract that was given. of course we still have Michael Gonzalez under control for another year, so we should realistically with-hold judgment on him.
Now the question is:
Is the Bullpen a strength or weakness for the Baltimore Orioles?
Lets take a look
:
-We are paying
Kevin Gregg
10mil over 2 years to most likely be our closer or setup man. Gregg has been surprisingly consistent over his 4 years as a closer (2 FLA, 1 CHC, 1 TOR). But that consistency is generally of a second tier closer. He can be an effective asset to a bullpen though.
-
Michael Gonzalez
has 1 year at 6mil left on his contract (2yr 12 mil). He missed a large portion of the 2010 season to injury, and as most Orioles fans try not remember, was terrible at the beginning. But after his long DL stint, he was highly effective and possibly our best reliever over the last 2 months. Gonzalez is now fully healthy and looking to complete a full season in whatever role Buck decides for him. He is a dark-horse candidate for closer, although it is doubtful he would win. I see him more of a late inning lefty setup man.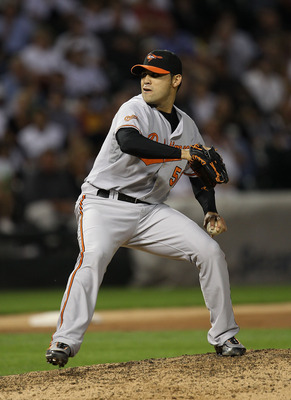 Michael Gonzalez
-
Koji Uehara
should battle with Gregg for the Closers role. The loser obviously becomes the main setup man. I found this funny tidbit while surfing the internet. Uehara in Japanese actually means "exquisite control". Interestingly enough, that is exactly the type of pitcher that Uehara is. He is a very solid reliever when healthy.
-The rest of the bullpen remains to be seen, and I mainly wanted to touch on these three pitchers.
-My main point is that if these three pitchers can keep themselves healthy throughout the entire season, then the Orioles could have an effective bullpen. That is a big IF however, since Uehara and Gonzalez have known health concerns and histories. But the Bullpen can be a strength if these guys pitch towards their abilities.
-I am not saying that the Orioles will have one of the better bullpens in the league, but I do think that they have enough pieces to have a more serviceable bullpen than before. It will be interesting to see how
Jim Johnson
,
Jason Berken
, and the others play in their newly accustomed roles.