The news before spring training indicated that
Nolan Reimold
had been working all off-season to be in great shape and recover from his Achilles Injury. As we all know, Nolan has an abysmal year in 2010. If you watched or listened to the game today against the Pirates, you would surely know that what was said before camp is true.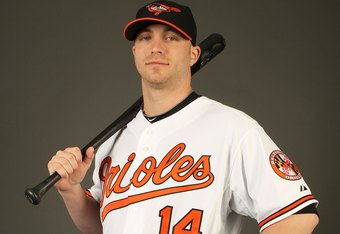 -
Nolan Reimold
went 1-1 today with a HR and 3 walks. Most people would be excited about the HR in this case, but I am actually ecstatic about the walks. The HR is great, but we all know that he has power, and pitchers are just getting warmed up basically. The 3 walks show me that he is calm and determined to make the team. Patience is also another key virtue to his game, and the reason he was so successful in 2009.
-This does not mean he will make the team however, as it really was only one game. Let's remember that his competition also had a good game today.
-
Felix Pie
also had a Double today, and apparently made a solid catch in Right Field.
-There may not be room for both Pie and Reimold on the 25 man roster unless a few things happen:
1.
Nolan Reimold
beats out
Felix Pie
for the 4th Outfielder spot, although there are still some problems for Nolan.
Reimold does not play Center Field (Or has not in a long time)
Pie has no options left while Nolan does.
2.
Jake Fox
wins the Backup Catcher role over
Craig Tatum
, thus allowing the Orioles to keep a 5th Outfielder.
Either of these are possibilities for Reimold to make the 25 man roster. If he keeps playing this way for the entire spring training, I see no reason to send him down to the minors besides the fact that they want him to get at-bats. This is going to be a big thing to watch as spring training goes along, and it's probably the most exciting position battle in camp this year (besides closer).