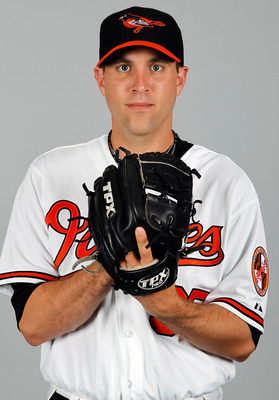 Brad Bergesen
is a 26 year old, 6'2'', Left-handed pitcher from Fairfield, California. He has enjoyed success throughout most of his baseball career, posting a 36-25 record with a 3.66 ERA in the minors. He even enjoyed a wonderful rookie season, posting a 7-5 record with a 3.43 ERA. However, his career has changed ever since the day he met
Billy Butler
.
It was July 30, 2009, when Bergesen was cruising for another win. He had gone seven innings giving up one earned run. He came on to pitch the 8th inning, and unfortunately might have made the most costly pitch of his career. Butler launched a fastball back at Bergesen, sending ball-to-bone echos throughout the stadium. It was an ugly scene for anyone that wasn't there or watching on TV. Since then, Bergesen has struggled to recapture the success he had during that season. Let's not also forget that he was injured filming a commercial before spring training as well. Take a look at 2009 compared to 2010-2011 to see exactly what I mean:
As you can see from above, Bergesen struggled mightily throughout the 2010-2011 seasons. His BB/9 went up each year, which obviously means more base-runners. Add that to an increasing BABIP, and it is no surprise to see his ERA and FIP rising.
A few more things that really jump out when looking at his statistics are LOB%, GB%, and HR/9.
More people left on base, added with an increasing HR/9, equates to disaster. The ground ball % indicates that he is serving up more line drives and fly balls, which probably is the reason for the increase in HR/9.
Essentially, Bergesen has all the negative trends you do not want to see in a pitcher. Could his injury in late July of 2009 really be the reason for his recent failures? Or was Bergesen simply all smoke-and-mirror in 2009. It's an interesting case to crack, with 2012 probably providing an important chapter in it.
Bergesen will have a fierce competition in spring training to make the team. He probably has four options at this point under my estimation:
1. He can win out a spot in the rotation. He would obviously need to revert back to 2009 form.
2. He can make the club as a long reliever. Maybe he doesn't win a spot in the rotation, but he was good enough to prove a valuable piece in the bullpen. His logical competition for that spot as of now would be Dana Eveland or Tommy Hunter.
3. Being optioned to AAA. Bergesen luckily has one more option left, so he does not have to worry much about job security...yet.
4. Finally, he could be a trade target. As a non-tender candidate earlier in the off-season, it wouldn't be a total shock to see Bergesen dealt. I would assume that the Orioles discussed that option at one point (regardless of whether they would follow through with it).
Overall, Bergesen is heading down a path that he does not want. A resurgent season is surely what he is looking for in 2012, and the rotation is completely up for grabs. It may be now or never for Brad Bergesen as a SP for the Baltimore Orioles.