In the second addition of Prospect Watch, I want to talk about a raw, but talented Outfielder.
Xavier Avery
has all the physical gifts to be a very good player at the MLB level, but will he ever be able to fully put it all together?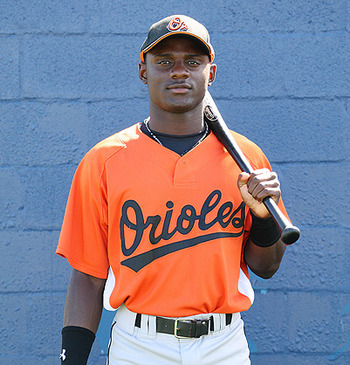 Avery, 22, was drafted by the Baltimore Orioles in the 2nd round of the 2008 draft out of Cedar Grove HS (Georgia). At 5'11' 180lbs, he has the prototypical body of a speedster. Stealing bases has always been one of Avery's strengths, as he has stolen 117 bases throughout his four year minor league career. He is widely considered one of the fastest people in the Orioles system, and projects to be an above average fielder as well.
Of course, fielding and base running are not the problem when it comes to Avery. His plate discipline and overall approach are the problem. Avery has a career batting line of .265/.324/.355. While not terrible, it is certainly not the line one would expect when you think of a potential "lead-off" or speedster type of player.
Kevin Goldstein
of Baseball Prospectus had this to say about Avery in his latest prospect ranking:
"Speedster held own in Double-A, but approach is a mess, as is swing."
As you can see, it is widely known that Avery has much work to do before he gains access to the MLB. However, there are some positives to his game. He has never faltered extensively when moved to the next level, and is usually a year behind his competition in terms of age. He has plenty of time to grow still, and it seems that the Orioles are in a position to not rush him with Adam Jones still patrolling CF.
Unfortunately, his career K% of 22.7% in the minors is a telling sign still needs to learn how to stay off the junk and figure out how to hit the off-speed stuff.
Add that with his career BB% of 7.9% and you can get a better picture of why he has trouble getting on base.
After watching him on occasion at AA last season, and from what I saw in the AFL games broadcasted, he still has much work to do in the above areas mentioned.
Overall, Xavier Avery has plenty of upside, but his on-base skills will determine whether he becomes anything more than a 4th OF. He does not have the power(13HR in four seasons), like Adam Jones, to get away with such a high K% and low BB%. Avery will most likely start the 2012 season in AA or AAA, depending on whether the Orioles deem him necessary for the next level. He is certainly a guy to watch in the future though.
*Credit as usual to Fangraphs and Baseball Reference for the statistics*